Overview
Our newest flatbed laser cutting machine, the Amada LCG 3015 AJ Fiber Laser really is at the cutting edge of technology, developed by world renown Amada.
This fine-limit sheet-metal cutting machine is both very quick (2.83m per second) plus very precise (± 0.01mm repeatability). Being quick means parts do not suffer from heat distortion, being precise means getting closer to perfection. The fibre laser advantage is reduction in the melt effect on coated surfaces and cut edges. Real-time measuring sensors detect the slightest media undulation and material tolerance adjustments means less waste and zero rejects.
A table load weight of 920kg and a 21 ton automatic loader / un-loader means we can run large orders at tight deadlines 24 hours, as well as a one-off very efficiently.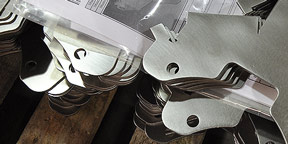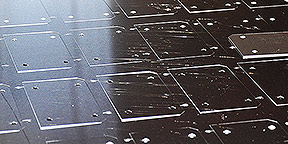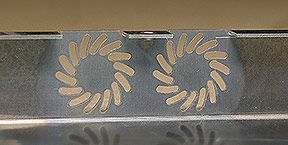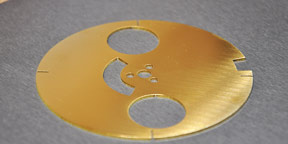 Specifications
Our laser cutting service can cut sheet steel, copper, brass and titanium of sizes up to 3070 x 1550mm depending on the sheet metal type:
aluminium 6mm
stainless steel 5mm
mild steel 5mm
brass and copper 5mm
The fiber laser (0.03mm) beam kerf is very clean and approximately 10x smaller compared with CO2 lasers.
It can run up to 3000kg batches per program.
We can program this sheet metal laser cutting machine to run 24 hours. With this machine's fibre laser (vs. CO2) low energy requirements this laser cutting machine also helps fulfil our environmental obligations to reduce emissions and energy use (and running costs).
Applications
Every and any sheet metal cutting requirements from chassis cases, computer and equipment casements, aeronautical fittings, electronic boxes, brackets, parts, fixture and fittings all perfectly cut and ready for bending, welding and fabrication.